Les incontournables du CPC
Riche d'une ludothèque riche et variée comptant plusieurs milliers de titres l'Amstrad CPC compte nombre de bons, voire très bons, jeux vidéos dont les noms résonneront pour longtemps dans la mémoires des gamers.
Je vous propose une sélection de ce qui a pu se faire de mieux par catégorie, ils sont toujours encore très jouables aujourd'hui.
Arcade
Bomb Jack 1 & 2 / Arkanoid 1 & 2
Aventure
Sram 1 & 2   /   Le Passager du Temps
Beat'em All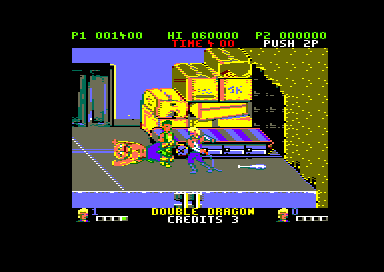 Renegade 1 & 2 / Double Dragon 1 & 2
Plates-Formes
Rick Dangerous 1 & 2 / Prince of Persia
Combat
Barbarian / IK+
Gestion
Pirates! / Defender of the Crown
Inclassables
Trailblazer / Spindizzy
Réflexion
Deflektor / Lemmings
Run'n Gun
Gryzor / Ikari Warriors
Shoot'em Up
Cybernoïd 1 & 2 / Slapfight
Sport
Winter Games / Ping-Pong
Tir (Rail Shooter)
Operation Wolf / Star Wars
Un cas particulier : les Speccy Port
Cette expression honnie des cpcistes désigne les jeux sortis sur Sinclair Spectrum puis adaptés sur Amstrad CPC avec peu ou pas de changements. Cela était possible car les deux machines étaient assez proches, les programmeurs n'ayant qu'à retoucher légèrement leur code pour adapter le jeu (ce qui était intéressant financièrement pour les éditeurs...).
La plupart de ces adaptations sont ratées, parfois pires que l'original, avec peu de couleurs et une maniabilité atroce : Black Tiger, Enduro Racer, R-Type...
Black Tiger les couleurs sont parties au lavage...
Enduro Racer, au secours Maître Sega !
R-Type, version 1988
Il y a cependant eu quelques portages réussis comme par exemple les Saboteurs, Pac-Mania, Karnov...
Saboteur 1 oui ça pique un peu les yeux
Pac-Mania
Strider
Les écrans-titres des jeux
Comme l'a dit Eric Cubizolle,l'auteur de l'article sur le même sujet paru dans Pix'n Love n°5, les écrans-titres des jeux Amstrad sont une accroche indispensable au joueur, comme l'est l'affiche d'un film pour le spectateur. C'est aussi un lieu de créativité pour les graphistes...et un bon moyen de patienter pour les chargements par K7 !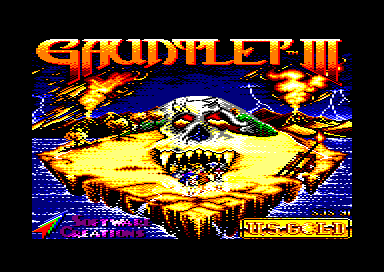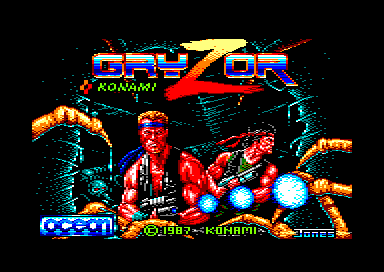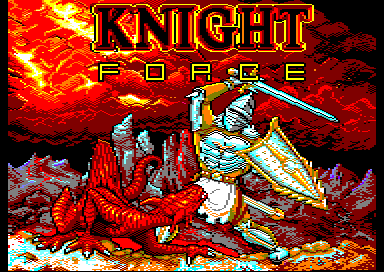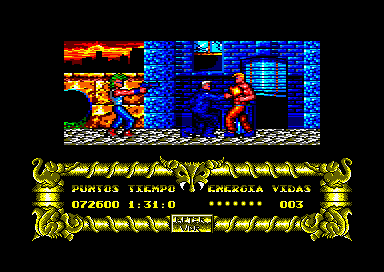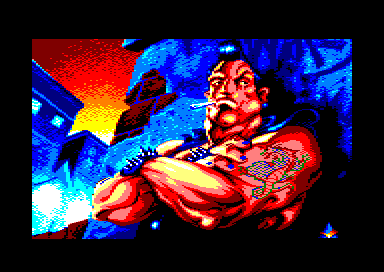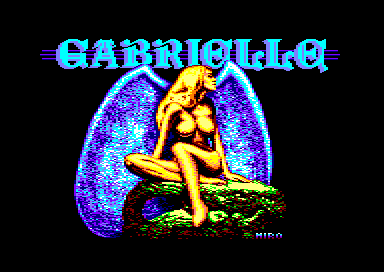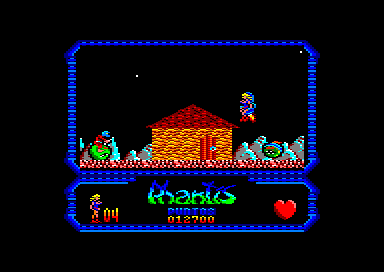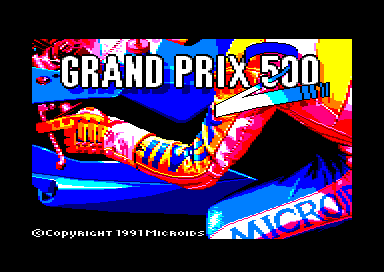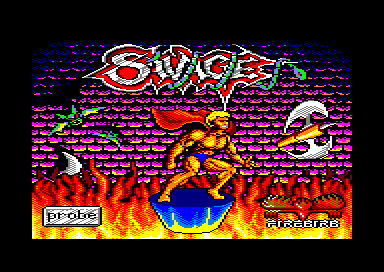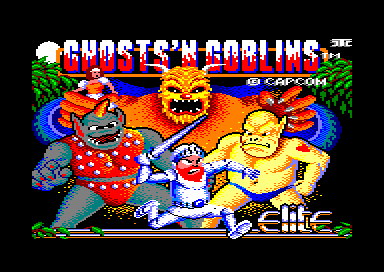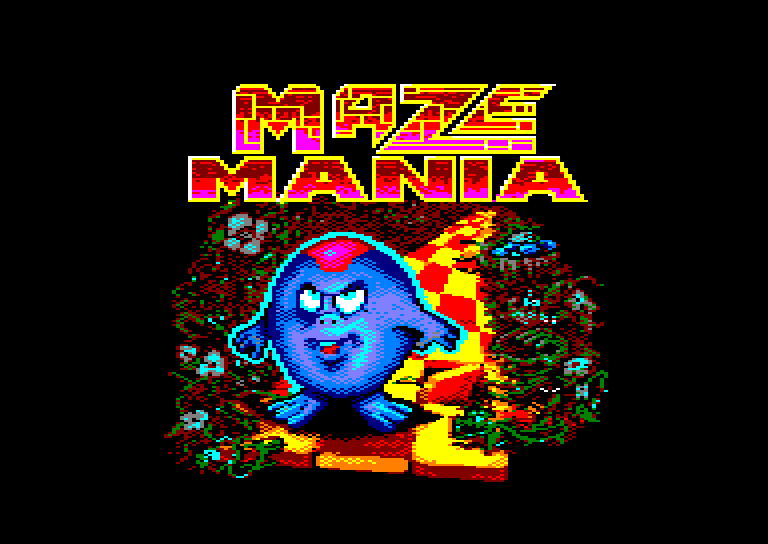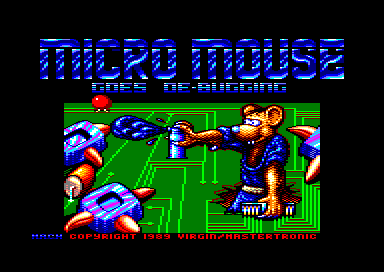 Dans l'ordre : Gauntlet III / Gryzor / Knight Force / Bronx / Gabrielle / Game Over 2 / Grand Prix 500cc / Savage / Ghosts'n Goblins / Maze Mania / Micro Mouse Goes Debugging
La ludothèque Amstrad CPC 1984-1993
J'ai essayé de faire une liste des jeux les plus connus, les plus marquants (pas forcément les meilleurs) sortis sur CPC de 1984 à 1993.
1984:

Bruce Lee (US Gold)
Combat Lynx (Durell Software)
Fruity Frank (Kuma Computers)
Hold Up (Ere Informatique)
Jet Set Willy (Software Projects)
Knight Lore (Ultimate)
Manic Miner (Software Projects)
Roland [la série] (Amsoft)
1985:

3D Grand Prix (Amsoft)
Barry McGuigan World Championship Boxing (Activision)
Beach Head (Amsoft)
Boulderdash (Mirrorsoft)
Cauldron (Palace)
Chuckie Egg (A&F Software)
Commando (Elite)
Cyrus II Chess (Amsoft)
Frank Bruno's Boxing (Elite)
Gauntlet (US Gold)
Ghostbusters (Activision)
Gunfright (Ultimate)
Hyper Sports (Ocean)
Infernal Runner (Loriciels)
L'Affaire Vera Cruz (Infogrammes)
Le 5eme Axe (Loriciels)
Macadam Bumper (ERE Informatique)
Orphee - Voyage aux Enfers (Loriciels)
Ping-Pong (Ocean)
Sorcery (Virgin)
Sorcery+ (Amsoft)
The Way of the Exploding Fist (Melbourne House)
Who Dares Wins II (Alligata)
Yie Ar Kung-Fu (Ocean)
1986:

1942 (Elite)
Aliens (Activision)
Bactron (Loriciels)
Batman (Ocean)
Billy la Banlieue (Loriciels)
Bob Winner (Loriciels)
Bomb Jack (Elite)
Cauldron II (Palace)
Crafton & Xunk (ERE Informatique)
Eden Blues (ERE Informatique)
Elite (Firebird)
Game Over (Dinamic)
Gauntlet II (US Gold)
Ghosts'n Goblins (Elite)
Green Beret (Ocean)
Gyroscope (Melbourne House)
Ikari Warriors (Elite)
Jack the Nipper (Gremlin)
Kane (Mastertronic)
L'Affaire Sydney (Infogrames)
L'Aigle d'Or (Loriciels)
Le Pacte (Loriciels)
Les Passagers du Vent (Infogrames)
Light Force (FTL)
MGT (Loriciels)
Pacific (ERE Informatique)
Paperboy (Elite)
Saboteur (Durell)
Sai Combat (Mirrorsoft)
Sapiens (Loriciels)
Space Harrier (Elite)
Spidizzy (Activision)
Split Personalities (Domark)
Sram (ERE Informatique)
Thanatos (Durell)
The Great Escape (Ocean)
The Sacred Armour Of Antiriad (Palace)
The Way Of The Tiger (Gremlin)
Tobrouk 1942 (Pss)
Trailblazer (Gremlin)
Winter Games (Epyx)
Zombi (Ubi Soft)
1987:

Airwolf II (Elite)
Arkanoid (Ocean)
Asphalt (Ubi Soft)
Barbarian (Palace)
Billy la Banlieue 2 (Loriciels)
Bivouac (Infogrames)
BMX Simulator (Codemasters)
Bomb Jack II (Elite)
Bubble Bobble (Firebird)
Buggy Boy (Elite)
Combat School (Ocean)
Death Wish 3 (Gremlin)
Deflektor (Gremlin)
Exolon (Hewson)
Express Raider (US Gold)
Basket Master (Dinamic)
Freddy Hardest (Dinamic)
Gryzor (Ocean)
Head Over Heels (Ocean)
La Chose de Grotemburg (UBI Soft)
Le Passager du Temps (ERE Informatique)
Les Ripoux (Cobra)
M'enfin ! (UBI Soft)
Mask (Gremlin)
Meurtres en Série (Cobra)
Mission (Loriciels)
Phantis (Dinamic)
Pirates (Microprose)
Prohibition (Infogrames)
Rampage (Activision)
Renaud - Marche à l'Ombre (Infogrames)
Renegade (Ocean)
Saboteur 2 (Durell)
Shao Lin's Road (The Edge)
Short Circuit (Ocean)
Slap Fight (Ocean)
Sram 2 (ERE Informatique)
Star Wars (Domark)
Tiger Road (Go!)
Trantor (Go!)
1988:

After Burner (Activision)
Airborne Ranger (Microprose)
Anarchy (Hewson)
Arkanoid Revenge Of Doh (Ocean)
Atomic Driver (Loriciels)
Beyond The Ice Palace (Elite)
Conspiration (UBI Soft)
Crazy Cars (Titus)
Cybernoid (Hewson)
Cybernoid II (Hewson)
Daley Thompson's Olympic Challenge (Ocean)
Double Dragon (Virgin)
Dragon Ninja (Ocean)
Fire & Forget (Titus)
Hurlements (UBIS Soft)
International Karate Plus IK+ (System 3)
Jet Bike Simulator (Codemasters)
Karnov (Activision)
L'Arche du Captain BLOOD (ERE Informatique)
Le Manoir de Mortvielle (Lankhor)
Last Ninja 2 (System 3)
Live And Let Die (Domark) ?
Marauder (Hewson)
Meurtre à Venise (Cobra)
Navy Moves (Dinamic)
Operation Wolf (Ocean)
Psycho Pigs UXB (US Gold)
Rambo III (Ocean)
Savage (Firebird)
Silkworm (Virgin)
Skate Crazy (Gremlin)
Spitting Image (Domark)
Star Wars - The Empire Strikes Back (Domark)
Super Ski (Microïds)
Target Renegade (Ocean)
The Bard's Tale (EA)
The Games Winter Edition (Epyx)
The Vindicator (Ocean)
Titan (Titus)
Turbo Cup (Loriciels)
Wec le Mans (Ocean)
1989:

AMC Astro Marine Corp (Dinamic)
APB All Points Bulletin (Domark)
Barbarian II (Palace)
Batman the Movie (Ocean)
Bumpy (Loriciels)
Chase H.Q. (Ocean)
Chicago 90 (Microïds)
Crazy Cars II (Titus)
Defender of the Crown (UBI Soft)
Double Dragon II The Revenge (Virgin)
Dragon Spirit (Domark) ?
El Capitan Trueno (Dinamic)
Emlyn Hughes International Soccer (Audiogenic)
Ghostbuster II (Activision)
Ghouls'n' Ghosts (US Gold)
Great Courts (UBI Soft)
HATE - Hostile All Terrain Encounter (Gremlins)
Highway Patrol (Microids)
Iron Lord (UBI Soft)
Knight Force (Titus)
Lode Runner (Broderbund)
North & South (Infogrames)
P-47 The Freedom Fighter (Firebird)
Power Drift (Activision)
Purple Saturn Day (ERE)
Rainbow Islands (Ocean)
Rick Dangerous (Firebird)
Robocop (Ocean)
Satan (Dinamic)
Shinobi (Virgin)
Shufflepuck Cafe (Broderbund)
Sim City (Infogrammes)
Skate Ball (UBI Soft)
Skweek (Loriciels)
Spherical (Rainbow Arts)
Stormlord (Hewson)
Strider (US Gold)
Westphaser (Loriciels)
1990:

Bloodwich (Image Works)
Burnin' Rubber CPC+ (Ocean)
Deliverance - Stormlord II (Hewson)
Disc (Loriciels)
E-Motion (US Gold)
Flimbo's Quest (System 3)
Hostages - Operation Jupiter (Infogrames)
Impossamole (Gremlin)
Karateka (Broderbund)
Klax (Domark)
La Secte Noire (Lankhor)
Midnight Resistance (Ocean)
Monty Python's Flying Circus (Virgin)
Pang CPC+ (Ocean)
Panza Kick Boxing (Loriciels)
Prince of Persia (Broderbund)
Rick Dangerous II (Micro Style)
Super Skweek (Loriciels)
Targhan (Silmarils)
Teenage Mutant Hero Turtles (Image Works)
Turrican (Rainbow Arts)
Twinworld (UBI Soft)
UN Squadron (US Gold)
1991:

B.A.T (UBI Soft)
Builderland (Loriciels)
Hero Quest (Gremlin)
L'Aigle d'Or le Retour (Loriciels)
Lemmings (Psygnosis)
Prehistorik (Titus)
Switchblade (Gremlin)
Teenage Mutant Hero Turtles 2 - Coin Op (Image Works)
Terminator 2 (Ocean)
The Addams Family (Ocean)
The Simpsons Bart Vs. The Space Mutants (Ocean)
Turrican 2 (Rainbow Arts)
Xyphoes Fantasy (Silmarils)
1992:

Bumpy's Arcade Fantasy (Loriciels)
Crazy Cars 3 (Titus)
Les Aventures De Moktar (Titus)
Space Crusade (Gremlin)
1993:

Nigel Mansell's World Championship (Gremlin)
Prehistorik II (Titus)
Super Cauldron (Titus)


Dernière édition par Esperluette le Lun 27 Avr - 11:11, édité 12 fois